Your diving holiday in Bali
In our resort we have integrated what we have liked in dive centers all over the world combined with the things that would have made the experience prefect.
family living with sea views
BEACH BUNGALOWS
stress-free on remote reefs
DIVING
enjoy typical local cuisine
CULINARY
discover Bali's cultural diversity
SHORE EXCURSIONS
Your diving holiday in Bali
Are you a SCUBA diver? Do you want to learn to SCUBA dive?
Located far away from areas of mass tourism, the north of the island of Bali offers perfect conditions for diving novices, experienced divers and underwater photographers. Our small family resort offers you beach bungalows with full board, dive center, pool and massages, as well as exciting tours through North Bali.
Rice terraces, volcanoes, crater lakes and waterfalls amaze as much as temples, ceremonies, markets and coffee, cocoa and clove plantations all over the island of Bali. To enable you to experience the secrets of North Bali first-hand, we offer a range of short walks, half-day and full-day tours.
Bali is breathtakingly beautiful.
Culinary delights from Bali, Indonesia and from all over the world.
Our restaurant has an extensive menu including many vegetarian options. On offer are Balinese and Indonesian delicacies, as well as some Padang, Thai and Western classics. All dishes are prepared daily, and our staff love to cater for individual tastes and preferences. While lunch and snacks can be ordered off the menu, in the evening we all gather for a communal dinner. Divers can also order lunch boxes for the dive trips.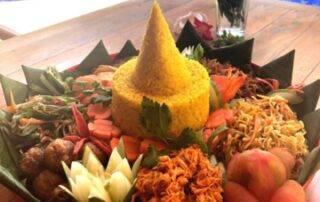 The massage pavilion is located right next to the ocean. The sound of the waves splashing against the shore complements the calm and soothing atmosphere. For many of our guests this is the highlight of their daily activities!
We are looking forward to your message and will answer within 24 hours.